This product is not something you set outside to determine what time it is. It's actually a cute play on a title, but "Sum" is the company, and "Dial" is the product. There is actually another product by the same company that doesn't really have that same ring to it, but since we're reviewing this one, we have to make some kind of note about the funny way it sounds.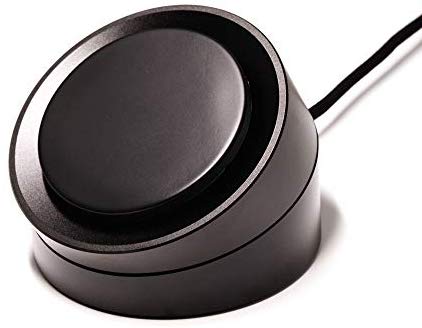 This sleek, aluminum charging stand is well built. It has a nice silicone rubber surface that provides a real non-slip grip to hold your phone in place. So, there are all kinds of wireless charger on the market now, and you may be wondering what makes this one different. This one definitely has a high-quality, high-class feel to it. Twisting the dial on the base will give a 29 degree viewing angle, so you can look at your phone at the level you want. You have the option of landscape or portrait orientation, of course.
The footprint of this charger is small. It doesn't take up a lot of room at 1.85 x 3.15 x 3.15 inches, and weighs only .6 pounds. It will charge phones with most cases- as long as they aren't too thick or magnetic. You don't have to work as hard to find the correct positioning for your phone as is the case with other wireless chargers I've reviewed.
It comes with a USB-C 18 W power adapter, and a meter long USB C to USB C cable. The cable isn't too long, so you might have to adjust to your power source. That is one downside to this item. Another is that the silicone rubber will easily collect dust. The big downfall might be the price. $100 on their site, or $98 on Amazon.com. I saw one priced for $50 before, which is probably more reasonably priced for this product. Still, if you want to spend that on a wireless charger, it is a good one.
We were given this product to review, but we are not sponsored by Sum, and we don't receive any compensation for our fair and unbiased evaluation.