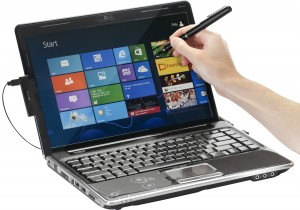 Some products really catch your attention because they solve an important issue. Windows 8 is optimized for a touchscreen, but not all computers have touchscreens.
Fortunately, Targus has created the Touch Pen, which is able to make any Windows 8 laptop a touchscreen. It is a device that fits on the side of a laptop, and a swipe of the pen is able to bring up the Windows menu on the side. From there, it is about touching what you want, just like using a Windows 8 phone.
Something tells me that we will see a lot of Targus Touch Pens sold, and it works on laptops or monitors up to 17 inches. It does only work for Windows 8 products, which is too bad, as I would like to try it on other versions of Windows.
If you are looking to get it, it is available for about $99.99.