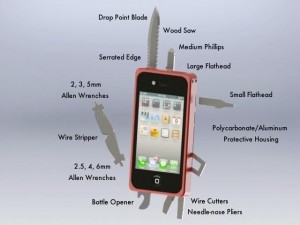 I have been reporting on a lot of iPhone cases these days, but I will have to say that the TaskOne case is one of the most versatile. I have to admit, I can't see any reason why someone would not combine an iPhone case with a Swiss Army knife, but now I can't see why not. I guess this is another brilliant yet simple idea, like the Paperclip headphones.
As you can see on this image, it has lots of blades, screwdrivers, Allen Wrenches, not to mention a bottle opener, wire cutter, and needle-nose pliers. I would imagine that if they ever updated MacGyver for this decade, he would wield a TaskOne on his iPhone.
Of course, this had to be a privately funded project, doesn't it? That means that if you pledge your money, you can get it when the particular goal is reached. If you pledge $90 at the site here, you can get your hands on one.