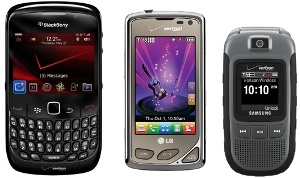 Verizon has announced three new phones today. I'll introduce them from left to right.
The first is the BlackBerry Curve 8530, which will be available from Verizon and possibly Sprint starting on November 20th.
The second is the LG Chocolate Touch, which is launching today.
The last is the Samsung Convoy, which is coming on November 15.
Garmin Nuvi has a new device called the ESP. It's not what you think, but it does give you some extra sensory perception on your car.
Someone went and put the Beatles music collection on a USB drive, and made that USB drive in the shape of an apple.
Here is one of the finest External Hard Drives that I have ever seen. Check out the Brinell Purestorage External Hard Drives.
This is an odd thing: a vertical bed. Yes, it lets you sleep standing up, provided you have a grating to stand on.
Here's an interesting gaming peripheral for the Wii: the Thrustmaster T-Freestyle NW.
This one is an interesting number, the R1 radio.