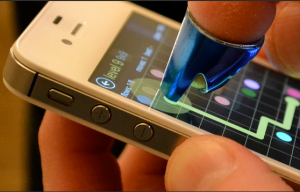 There is a section of the Showfloor of CES at the Venetian that is devoted to the latest in technology, and I saw this particular product, the Tech Tips Precision Stylus.
As you can see, it is simply an artificial fingernail stylus branded as Nano Nails, and it replicates the motion of tapping on an object with one's hand, only with nails. Considering that hands with long nails don't work on touchscreens, this is a product that is needed.
Now I don't seem to have any info on where one could buy these, but I'm guessing that the price is not going to be steep. I have heard you can buy this with brand names on them, so you might be seeing a lot of Tech Tips nail styluses as SWAG at conferences. You can find out more information about them here.