This former Kickstarter project could be the answer to prayers of parents who want a way to control the time their kids spend on their devices. TechDen is a high tech support device that will monitor device usage. It acts as a secure storage option that will also charge devices while they are in "time-out."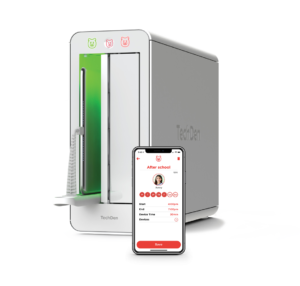 With the TechDen app(free for download on iOS and Google Play), you can schedule how much time your child is allowed to spend on their device. An adult version of the app gives you the power to set a schedule for your kids to use the app. You can even have your kids earn rewards for more time. When their time is getting close to an end, they'll get a reminder on their device through the kids' app. Then, when time is up, they will go place their device in one of two sides, and it will charge it, while keeping it locked up inside.  This is great for parents because it takes away having to be the "bad guy," and teaches responsibility in this one gadget.
Here's a video that shows more about how it works:
In the Box, you get:
The Den
Two iOS-enabled Lightning™ cables
Two Android-enabled micro USB cables
Two stabilizer feet for added support
Power cord
There isn't a cable that comes ready for USB C, but you could always get an adapter to use for your newer Android phones that need that connection. The requirements to use the TechDen are iOS devices 9.0 or later, or Android 4.2 or later. You will need the free app installed on parent and child devices, as well as a wireless connection and Bluetooth. Tablets up to 10.5 inches will fit in one slot of the 14.45 x 4.65 x 10.87 in unit.
$229 will buy this product with free shipping in the US on the TechDen site. It's also available for sale on Amazon.com.
We received a unit for review in exchange for our fair and unbiased analysis. TheGeekChurch is not sponsored by TechDen. No other compensation has been given, but if you order through the Amazon affiliate link, we may receive some compensation.