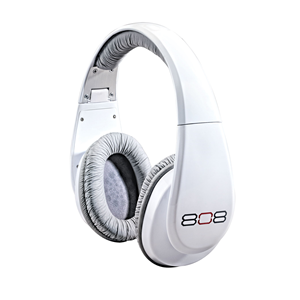 This is the 808 Headphones from Acoustic Research, and they have a description that says: "Don't just hear it. Feel it. Experience it. Live it. In every bone of your body. And every fiber of your soul. With balance and clarity. With uncompromising comfort and convenience. From the highest notes to the deepest grooves."
I tried these out on some on vids that are high-quality and even some YouTube vids, and I found that the bass shook me more than I thought it would. Their slogan is true, and they really do shut off the outside world.
The 808 also comes with a flat cable with microphone, and they are tangle-free and it looks really cool. Another bonus is that the 808 headphones can fold up, and they come with a very convenient carrying case.
If this is something that you want to get a hold of, you can get it in Matte Black, Gloss Black, and Gloss White for $89.99 on the Acoustic Research website.