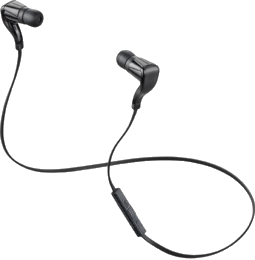 I always like to see what Plantronics is up to, and in addition to reviewing the GameCom 780 gaming headset the other day, I had a chance to check out the BackBeat GO wireless earbuds.
It is difficult to begin my review of the BackBeat GO. Rest assured, it is positive. Let me start by saying that I like the idea of two Bluetooth headsets joined by a wire to make double-ear wireless headset. Yes, it has been done before, and yes, it will be done again.
Let me start by saying how light these are. I will have to say that they are so light and small, that I thought I had lost them earlier yesterday. They do fit very comfortably on the ears, and the sound is pretty good for something this small. As you listen to your music, the convenient buttons enable you to skip tracks and change your volume as well.
The BackBeat GO is also good for when you are wanting to take phone calls as well. As an added bonus, the user of an Android 3.0 and 4.0 device can get an application called MyHeadset which enables a battery headset meter on the device itself. Also, iPad and iPhone users have an opportunity to have their battery life updated on screen.
You should be able to purchase the BackBeat GO wireless earbuds for a price of $99.99 on the Plantronics website.