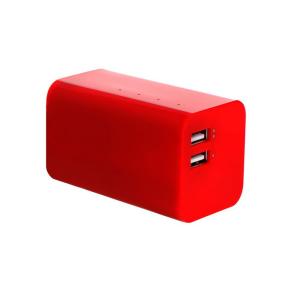 I have seen portable battery packs before, such as the Brunton Resync. Eton, a company that has given many different products that save energy has now given us the BoostBloc6600.
The BoostBloc6600 has a 6600mAH lithium ion battery that is made for portable power, and I am told that it can charge most smartphones three times on a single charge. It is also packed with two USB ports so you can charge two USB-powered devices at once.
What I really like is how it has indicator lights on it to show how much charge is left in it. What is odd is how to see the four indicator lights by shaking it. I had it plugged in to my mobile phone, and it charged well. I found that I can't shake it while it is charging something and get the indicators.
If you want to get this, feel free to go to the Eton site and lay down $99 for it. It comes red, white, or black.