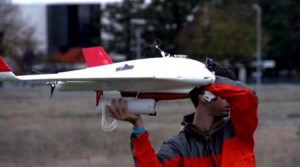 I have to admit that I have seen the Burrito Bomber on other tech blogs for about a week, so I am probably a Johnny-come-lately reporting on it now. At first, I thought it was just some cute tech application, but my Source showed an entirely different application for it.
Considering that we are living in an age where food delivery is a stable business, one has to consider the cost of a driver, the cost of gasoline, the cost of delivery vehicles, not to mention the ease of each to get caught in some sort of traffic. The Burrito Bomber takes many of these risk factors and reduces them with the use of a UAV to drop its food.
Designed by a team from Darwin Aerospace, the Burrito Bomber is designed to drop its food orders completely by autopilot. I can assume that the burritos are easier cargo as they do have a bomb-like shape.
Now, if all the orders were the same, then I can easily see how this could work out. However, I would like to see it willing to do pizzas and subs, all of which would have a different order per drop.
I can see how this could be our future. Remember the scene in Spider-man 2 where Peter Parker can only deliver pizzas faster by swinging from his webs? Most big cities depend on bikes for deliveries as it is nigh impossible to travel through traffic.
I suppose that the future will be many UAVs flying from building to building, delivering meals. It really isn't too hard to imagine. I suppose then every food delivery restaurant will have a hangar for their personal UAV, and the former delivery driver will load up the UAV and man the computer to target the delivery.