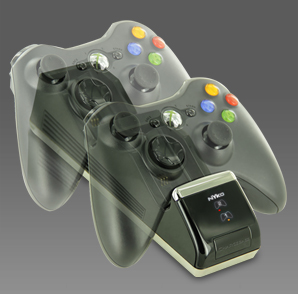 I had the distinct pleasure of reviewing many gaming accessories from the Nyko company, and it is only recently that I have been able to review products that I saw at CES 2012.
I will be talking about more Nyko products in the next week, but for now I will discuss this one for the Xbox 360. The Charge Base S isn't necessarily a new product, but it certainly is downright useful for all Xbox gamers.
I mean, those wireless controllers can only last so long, so you might as well have something to charge them. The Charge Base 360 S is a dual port recharging dock that plugs into the wall, and it has two batteries that can plug into the back of the controllers. There are some LED lights that indicate when the charging is complete.
The batteries are each good for 25 hours, and it takes 2 hours to charge each or both batteries for 4 hours. In addition to this amount of power, the Charge Base S also has a hidden USB port for some extra power for any USB-powered device.
You should be able to get the the Charge Base S on the Nyko website for about $24.99.