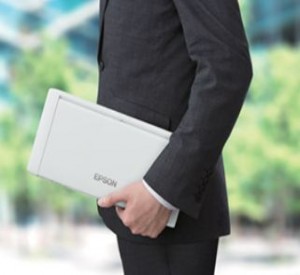 You know what the problem is with our society? We are both a paper society and not a paper society. Seriously, I've got lot of documents on my computer that should be printed out, but printers are such stationary things.
You could just get the Epson PX-S05 which is a printer that is small enough to fit in one's carry-on baggage. It is slim, uses A4 paper, inkjet, and it weighs in at 3.5 pounds. It can also print 50 colored images, or about 100 in monochrome at a max. resolution of 5760 x 1440 DPI.
As for the power, it can be charged via USB cable or through the PC via mobile battery. It can work with both Windows, Mac, and can work with Wi-Fi as well as a lot of mobile devices.
The Epson PX-S05 will be available in September for a price of about $275. In all honesty, I am surprised that I haven't seen more devices like this.