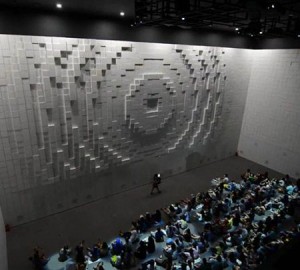 Hyundai Motors have discovered a way to promote themselves with the Hyper-Matrix. These look a lot a dynamic structure and testing element from the immensely popular Portal and Portal 2 games.
What you are seeing here is an interesting screen that is composed of thousands of one-foot styrofoam cubes. They are timed precisely to push in and out with the power of computer-controlled motor actuators, and the end result is some very unique animation that is actual 3-D. You should just watch the video after the jump and see how it works.
I think that this is pretty useless, for anything but entertainment purposes, but these movies are only good for 8-bit quality graphics. That isn't quite Disney Pixar quality, is it?
Still, it is just cool all around. Don't believe me? Just watch it if you haven't already.