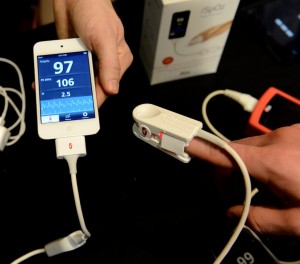 I think that we all know that iPhones and iPads are becoming the center of information and technology for just about everything. I guess it is just a matter of time before medical instruments become iDevices.
A company known as Masimo has created the iSpO2, a Pulse Oximeter that allows the user to "noninvasively track and trend blood oxygenation, pulse rate, and perfusion index". In other words, it turns the iPhone or iPad into an instrument for anyone interested in measuring blood oxygen and pulse.
Now, Masimo has a note saying that this is "not intended for medical use". I don't really see why iDevices can't be used as medical instruments if they give us correct readings. I suppose this could be the closest thing to Dr. Bones McCoy's tricorder from Star Trek.
You can get the iSpO2 Pulse Oximeter on Amazon for about $249.00.