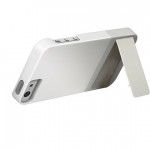 Sure, I review a lot of iPhone accessories, and it is usually the ones that are different that I try to report on. After all, how many times can you say: "provides protection for the iPhone".
This Kick iPhone 5 is made by X-Doria, the makes of the Felt and the Campfire for the iPad. The Kick is different as it has a two piece design to give a glossy, smooth top mated with a matte-touch, rubbery bottom. What really makes it interesting is that it has a kickstand that retracts into the Kick case.
The Kick allows for viewing the iPhone 5 in Portrait and Landscape modes, which is perfect for watching movies or doing Facetime. Considering the way we are using our smartphones, perhaps it is good to put a kickstand on every phone.
If this is something that you want now, you should be able to purchase the Kick on the X-Doria site for about $29.99 in a variety of colors.