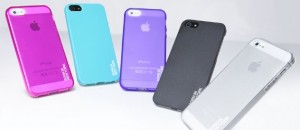 I have been thinking a lot of New York with Hurricane Sandy, and id America has "Born in New York" in their slogan.
I had a chance to try out idAmerica's latest offerings for the iPhone 5 with the Liquid and Mist. These cases are available in many styles and finishes.
I'll start with the Liquid. It is a padded flexible case for drop protection as it is made from a thermoplastic polyurethane. it is available in 18 different colors and 3 distinctive finishes.
The Mist collection is made from polycarbonate, to protect against bumps and scratches. This is available in 8 different colors and 2 finishes (translucent matte and solid matte).
You should be able to get these cases on the idAmerica site, for about $14.95 each. You should check out what else they have as well, like their Spark and Metropolitan earbuds.