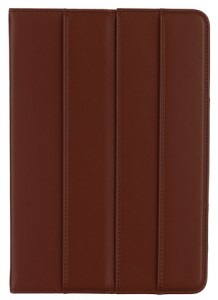 In addition to trying out the Modular Method Portfolio for the new iPad, I also had a chance to try out two other products from accessory maker M-EDGE with the Incline 360 Case for the iPad Mini and the SuperShell for the iPhone 5.
I'll start with the Incline 360 Case that you see here to the left. The Incline 360 Case is like many other case/covers for the iPad as it allows you stand up your iPad Mini at an angle. This is usually used for watching video on the iPad in landscape view, but the Incline 360 is so named because the user can turn the iPad Mini to portrait view. In fact, it allows for two portrait stand positions and three landscape angles.
There is also a microsuction strip to keep the case closed when it is not in use. The exterior is a durable microfiber leather, and the interior is a soft microsuede. You can get it on the M-EDGE site for about $44.99.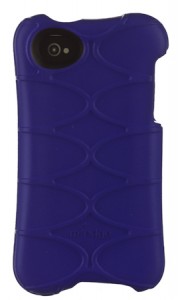 As for the SuperShell for the iPhone 5 that you can see here on the right, it is a protective cover of ultra-protective closed-cell foam made for absorbing shocks in case the iPhone 5 is dropped or other damage. I found that its texture is unique, which allows for now slipping. I am told that it will bounce the iPhone 5 when dropped, but I will take their word for that, unless anyone is willing to spare an iPhone 5 for me to try and bounce. The SuperShell for the iPhone 5 is also available on the M-EDGE site for about $29.99.
One thing that both the Incline 360 case for the iPad Mini and the Super shell for the iPhone 5 have in common is that they have the holes for the ports. I would have to say that I am quite impressed with what M-EDGE has to offer, and it is worth looking at on their home site/store here for more.