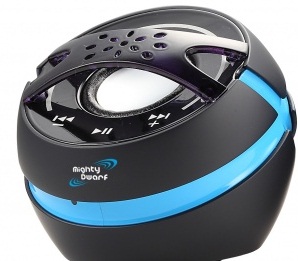 I just finished reviewing the 5W Mighty Dwarf, and I am now pleased to review the BlueII, a Bluetooth wireless speaker, also from Mighty Dwarf.
The BlueII looks very similar to the DBEST DUO Bluetooth speakers, except there is only one of them. Like the 5W, it has a 360 degree listening experience, but this one is wireless.
Yes, it is Bluetooth wireless, and it has a speaker and microphone together. It was easy to pair, and I am surprised with the deep bass tones that it possesses.
It has the Lithium rechargeable battery, but it doesn't have the SD card slot. It does have the capability of being a speaker with the help of a 3.5 mm cable.
I found the BlueII available on Amazon for about $105.00. You can find out where to buy here.