I first met Christopher Miller a year ago at a Writer's Convention. He and his brother Allan are authors, computer animators, but above all, they are men of faith.
The Miller brothers have written several books including their Heroes of the Faith series, and, most recently, the Hunter Brown series. I had a chance to read Hunter Brown and the Secret of the Shadow a few months ago, and I admired it. The book is fantasy mixed with Christian symbolism with a dash of Star Wars, The Matrix, Lord of the Rings, and other influences. I can't wait to get started on Hunter Brown and the Consuming Fire, second in the Hunter Brown series.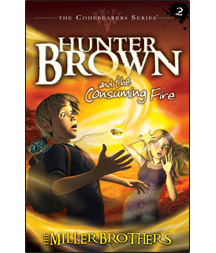 Their book was released on 09-09-09 (dang, did everything happen that day) and the Miller Brothers had a little celebration for it at Edgewood Bible Church, located in Edgewood, Washington on September 12. I had a chance to be there and talk to them about it, and I hope that we can do another article about them, complete with video footage.
In the meantime, keep your eye on these two brothers. They are Christians who are more than techno-savvy, and they are trying to make a difference in the world. This is why I started The Geek Church.