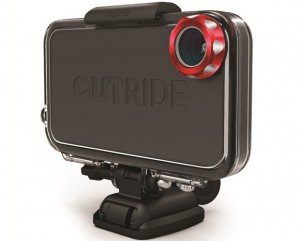 Mophie is a company that I best know for their iPhone accessories, such as the Juice Pack, a combination battery and case. They have a very cool new product called the Outride which could easily make a living selling.
After all, one of the biggest markets these days are those extreme video cameras like Go Pro which attach to a helmet, made for filming events like surfing, biking, and other such lifestyles that I don't have.
The Outride is essentially a way to turn your iPhone into one of these cameras. I had a chance to try it out, and I will have to say that I have never seen so much protection for an iPhone.
The kit comes with all this in the box, and it really is all there:
1x OutRide DryLand case
1x OutRide WaterSports case-back
2x Curved mounts with 3M adhesive
1x Thumb-latch quick-release
2x Flat mounts with 3M adhesive
1x Handle bar mount
1x Surf mount with 3M adhesive
1x Tripod mount 0.25 – 20 TPI adapter
1x Safety leash
2x 90° dog bone extensions
Lens cap
Lens cleaning cloth
User manual
OUTRIDE iTunes App
In addition to all this, it provides a wide-angle lens for 170 degree viewing angle lens. In short, the Outride is made for interchangeable backs for all kinds of conditions be they snow, waves, or whatever.
In addition to these features, Mophie provides an online community for all their action filmers. Their app allows you to share your extreme vids to others, and they are quite something.
If you are looking to get this type of action, head to the Mophie site and lay down about $149.95. It is comes in black and red bezel, and yes, everything that I mentioned before.