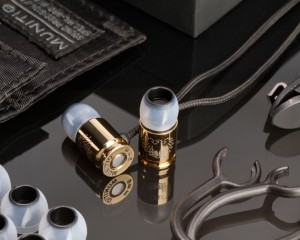 I will be honest with you and say that it is somewhat boring to review headphones. I don't know how many times I can say "they sound good" when in fact, they all do. Sure, some sound better, and the company Munitio has gone with a look of bullets for the NINES. That's right, the earbuds look like bullets, and these aren't the only ones that like something Neo would dodge, but I want to stick to the subject at hand.
Like some bullets, the NINES have a "hollow points". These are noise isolating "silicone hollow points", and the NINES also have rare earth neodymium 9mm drivers, enclosed in a Bass enhancing chamber and topped with a custom-tuned Acoustic Sound Flow System. Yeah, I quoted that, but the part about the best reason to put a bullet to your ear is all mine.
The NINES come with some ear-hooks, a ballistic nylong carrying case, cable clip, and some replacement Silicone Hollow Points. Another feature is the 3 button suppressor with Mic Control.
You should be able to get the NINES on the Munitio site for about $169.00, and it they are awesome to have in Black, Silver, or Gold.