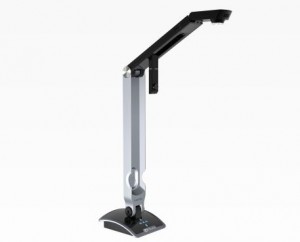 I have to admit that I was very pleased to try out the Neo 3 Hovercam Document Camera, as it isn't like the scanner that you might have on your computer. The Neo 3 is what you are seeing in the illustration, and it has an interesting way of bending at an angle so you can take a picture of a document that is very similar to scanning one on a scanner.
I had a chance to try it out, and I was pretty amazed at its portability and ease of use. All that is required is plugging it in and connecting it to a USB port. Granted, it was necessary to load up some software, but hey, what do you expect? Oh, the Neo 3 includes a VGA port cord in case you want to go very clear.
I am told that the Neo 3 can shoot with 40 x crystal clarity, and its still quality is pretty amazing. It is also capable of video and it can do Full-motion HD (720p 30FPS), XGA (1024 x 768 30 FPS), and UXGA (1600 x 1200 15FPS).
The Neo 3 is one of those devices that would change the world, if everyone had one. While scanners have changed the way we do business, they are not particularly mobile. The Neo 3 allows the user to use Multifuctional RealScan technology to scan files, and it can do OCR, digital signature, annotation, time lapse photography, and other things. What is interesting is that it has not one but two cameras so you can scan and video chat at the same time.
Yes, the Neo 3 is quite a gadget, and it is available for about $299.00 on the Hovercam site.