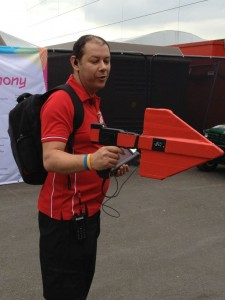 I have heard a lot about how the Olympics don't like how people have been tweeting at the games, which can really create problems when you are trying to do some live coverage.
By the way, the Olympics hate portable Wi-Fi hotspots powered by 3G. Can you imagine if someone had a 3G Wi-Fi hotspot and could cover interesting things about the events before anyone else?
This is why there is this guy who goes about scanning things just to make sure there isn't a 3G wireless hotspot near you. After all, those 3G wireless networks can foul up the referee mics, wireless cameras, and those electronic beeping devices that tell runners when to start.
So, if you are in London, or some other big event, watch out for this guy. I would probably be the guy that would ask what he does, seriously.