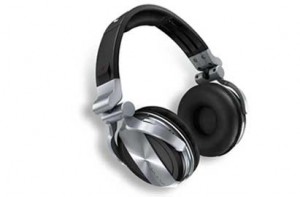 Now that I got myself the QuNeo, I need to get a pair of Professional DJ Headphones, like the HDJ-1500 headphones from Pioneer.
Okay, I'm probably not becoming a DJ, but I will have to admit that the HDJ-1500 are some pretty stylish headphones. There are some high-quality components thrown in it with 50mm drivers, copper-clad aluminum wire (CCAW) voice coils, rare-earth magnets and 38µm-thick diaphragms. I am not certain what all those stats add up to, but it has better bass response.
Of course, this is another one of my headphone reviews, like the one for the Custom One Pro from Beyerdynamic. I suppose that I should explain what is unique about this: it has earpieces that can swivel around 45 degrees, and can even be flipped around at 180 degrees for one ear listening. Yes, that is perfect for DJing.
You should be able to get the HDJ-1500 Professional DJ Headphones in Deep Silver, Black Chrome, and White for about $179.00 on the Pioneer site.