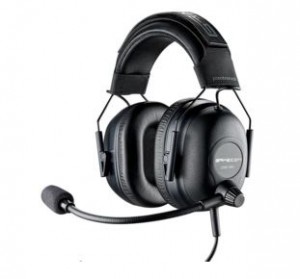 I have been fortunate to review Plantronics gaming headphones before, such as the GameCom 780. I have now got to try out the ultimate pair of gaming headphones, the Plantronics Gamecom Commander.
This is designed for PC gamers, but it has these QuickDisconnect adapters for switching from PC, tablet, or even smartphone. I have to say that the QuickDisconnect ports are like nothing that I have ever seen, and are probably only compatible with itself.
The Gamecom Commander has a USB sound card for 7.1 surround sound, and this sound really stands out on my ears. The closed-ear design really isolates the outside world, and so it is a must if you are looking to "get your head in the game".
The Commander also has an effective noise-cancelling microphone with flexible gooseneck.
In case you are wondering, this really is the ultimate for gamers. You can get it on the Plantronics site for about $299.99.