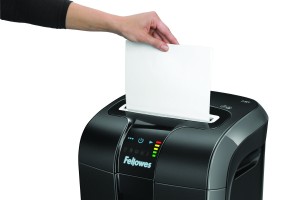 I think all of us have a personal paper shredder. I suppose it is because we believe those stories about people digging through our garbage to steal our personal information. Some of us might have one of those cheap jobs that can fit onto a trash can. I find that those tend to jam more than they should, and then I have had to open them up to dig out the excess paper.
I would suggest using the Powershred 73Ci, as it has a lid on it that fits tightly on its included garbage can. One of the reasons that I like it is because many shredders inevitably make a mess when you try and remove the shredded papers.
The Powershred 73Ci has a lot of rollers with heavy-duty cross-cut blades that can turn a single sheet of paper into 397 particles, making it impossible to tape back together. It can do CDs, credit cards, but it is safe. It has SafeSense Technology that can automatically stop shredding when the hands touch the paper opening.
The 73Ci feels like a touchscreen of the future as it has capacitive touchscreen controls on its front. They were a little hard to use at first, but I was shredding like a pro in no time, and the drawer in front makes it easy to empty.
As far as the power is concerned, it can do 12 sheets per pass. It does need a 20 minute cool down before after 10 minutes. I suppose that every shredder has to have that cool-down period, and this one is pretty acceptable.
You can get the Powershred 73Ci Jam Proof Cross-Cut Shredder on the Fellowes site for an MSRP of about $199.99.