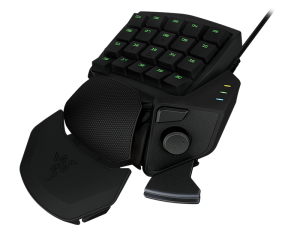 I first saw the Orbweaver at CES at the Razer booth, and my first instinct was that it was some new kind of gaming mouse. After all, Razer is famous for making famous gaming accessories, many of them gaming mice.
I can assure you when I tried it out that there was no mouse motion involved. I'm sure a lot of readers are probably wondering why in the world I thought it was a mouse, and this shows how I need to play more MMORPG games. The buttons can be programmed with macros using Razer's software, Synapse 2.0.
Let's see, where to begin. I'll start by saying that it has 20 fully programmable keys that you can use for macros. So if you are playing a game where you want to use multiple attacks, you could easily be the quickest on the draw in WOW.
As for the movement, there is an 8-way directional thumbpad which can be used as modifier keys as well. This thumbpad is adjustable, and there is also an adjustable palm-rest as well.
In all honesty, I'm not certain if the MMORPG market is as strong as it was a few years ago, but for those who are still in the game, I can recommend the OrbWeaver for about $129.99 on the Razer site.