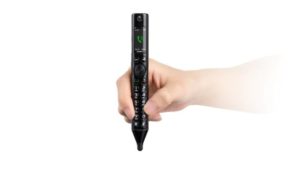 I wish that I had received the S-Pen by Zanco a little earlier, because honestly, I had a hard time using it. That being said, perhaps it would be better to introduce what this product is.
Imagine a pen that you can use like a phone, because it has the buttons for it. I am assuming that you can use it pretty much like a standalone phone, because not only there is a slot for an SDcard, but it's got a place for the SIM Card. Now, I tried inserting my SIM Card, and an SD Card, and I still couldn't make it work.
I would blame this on instructions, but it barely came with any. I am assuming that this is a very new product, because I usually do a search for any product that I review. I usually find it with a price, and put a link in my article. Can't really do that this time.
I can testify that the product works. Granted, I had to specifically ask the one who sent me this product how to pair it to my phone. Then I made a phone call with the pen, and the person on the other side (my wife) heard me just fine.
So if you are the person that likes to talk to some other item than your phone, such as an Apple Watch, then perhaps you might want this S-Pen. The slogan for this product is "the pen that James Bond would use", and even has a Photoshopped pic of Sean Connery holding it. I have no idea if this 007 photo from what appears to be Goldfinger was used with permission, but I believe that Zanco has some truth in advertising here.
I mean, this is one of those gadgets that can do a lot, like some kind of digital Swiss Army knife. It has a laser pointer and stylus capability, but I couldn't figure out how to use the camera (yes it has one).
Judging from the Kickstarter page, a pledge of about $50 would get you the S-Pen, which I am assuming is about the right price.