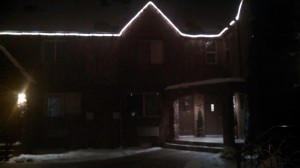 As I have mentioned before, we at TheGeekChurch will bring you coverage of CES 2013, as it is happening. Maybe not instantly, but hey, we'll be here. Before I do that, I want to talk about something cool. I usually don't cover places to stay, but since I was staying here on my way to CES, I figured I would talk about the Black Swan Inn.
The image here is what you will see on the outside of The Black Swan, but you should definitely know that it looks crazy cool on the inside as it has these themed rooms. These rooms range from Arabian Nights, Atlantis Under the Sea, Enchanted Forest, Pirates, Rocky Mountain Cabin, and there is a complete list on the Black Swan Inn site here.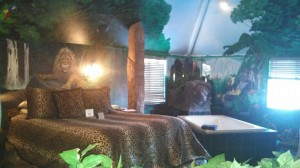 The one that you see in the image is the Jungle Falls Suite, and it involves a bed on a stone dais and lots of green trees painted on the wall. There is a lot of faux stone and even a faux tree in what had to be thirty foot ceilings. Man, it is quite cool as it had a waterfall with a pool at the bottom, complete with koi fish.
The room was also equipped with a home theather with speakers over the bed. It felt like I was at a movie watching a movie from the hottub. As you might have guessed, these rooms are designed with couples in mind.
Still, I can't help thinking that I would love to imitate the method of the Black Swan, and create my own theme rooms in my own home. Actually, that would probably be a lot of work. You should probably stick to staying at The Black Swan. You can make a reservation here, and the rooms range from $129-$199 a night.