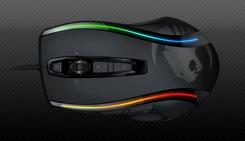 I first encountered Roccat's products at CES last year, and I have been hearing about them a lot since then. Their products look as awesome as the ones from Razer, and I do love this one.
It has a 6000dpi Pro-Aim Laser Sensor as well as an integrated Tracking and Distance Control Unit (TDCU). It also has 22 Mouse Functions, thanks to several buttons that can be assigned macros and other functions. It has about 8 mouse buttons, and one of the buttons will open up the Start bar on Windows.
All these buttons and functions make it perfectly set-up for gaming, and there is a lot of things that can be done for MMO gamers here. The Kone [+] is certainly ergonomic enough for that and precisely fits my thumb. I got to love that. It also comes with magnets for customizing the weight of the mouse, which makes it even more interesting.
Here is another thing that it has: a 4 LED Multicolor Light System, and it lights up with all the colors of the rainbow. I told my wife not to be jealous of my Kone [+] mouse, but she told me that she couldn't make that promise. She did look at this mouse later on, and she said: "I'm so jealous of your mouse".