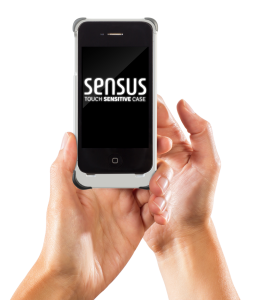 When it comes to innovations in technology, you really have to learn to "think outside the box". Yeah, that is so cliche that you have to be inside the box to use that.
Two weeks ago, I was at CES 2013 and there were booths and booths full of mobile accessories and cases for popular phones like the iPhone 5, Samsung Galaxy S III, and Nokia Lumia 920. I didn't really see anything out of the ordinary, but I wished I had seen the Canopy from Sensus.
The Sensus Canopy isn't like your ordinary iPhone case as it allows the user to access control of the phone on the back. That is right, the back side and even the right side are touch sensitive, so you don't have to even touch the front to access some phone controls.
Yes, you might not be able to access phone controls from the back, but important things like scrolling can keep the touchscreen more free from smudges. Yes, in order for people to take full advantage of the Canopy, apps will have to be developed for it that will be more compatible with it.
I am not certain when Sensus plans to release their accessory to people like us, but when they do, it should retail for $59-99.