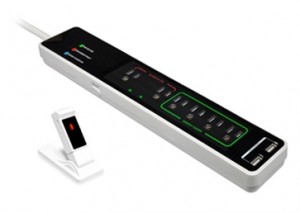 I generally don't do many reviews on surge protectors, but I really don't know why. After all, everyone has one, and no one has really taken the time to make a really good one.
No one, until Bits Limited has created the SUG7 Smart Strip, a wireless USB Surge Protector. What makes the SUG7 different is that it has two USB ports and two "always-on" outlets, for devices that you don't ever want turned off. The remaining four outlets are the "Energy Saver" outlets, which I will explain below.
I thought that was pretty clever, and then I saw that it comes with a USB Transmitter. This Transmitter can serve two functions. When the USB Transmitter is connected to a device's USB port, it detects power in the USB port and wirelessly controls the Energy Saver outlets.
It is also possible to turn on devices plugged into the Energy Saver outlets by touching the top button of the transmitter. It is good of turning off and on lights, and I'm surprised how well it works.
You should be able to get the SUG7 Smart Strip at the Bits Limited website for about $34.95.