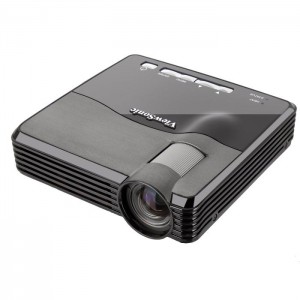 I don't know whether you have seen The Hunger Games movie, but I found it odd that the poor people of District 12 had small projectors for televisions in their households. I guess the people from Capitol really wanted people to watch The Hunger Games. That, or projector technology has become so cheap that anyone, even the most poor, can afford a projector TV.
I have been seeing many small projectors made for business and consumer use, and most of them are from 3M. I managed to get the PLED-W200 from Viewsonic, and it is a palm-sized LED projector that works very well for all kinds of situations weighing in at 0.9 lb, measuring at 5.1″ x 5.0″ x 1.3″.
I found it was pretty easy to hook up to my computer, and I was seeing what was on my computer up on my wall. All I needed to do was hook up some stereo speakers, and Netflix on my Internet browser became like a night at the movie theater. By the way, if you want to just take video off an SD card, you can just stick it in the SD slot and access it with the remote control, no computer required.
The images were 1280 x 800 native resolution, a 120 percent NTSC color scale, 250 ANSI lumens, and it is good for 720p and widescreen viewing. I noticed that at times the projected image would shift every once in a while, and this is because a built-in level sensor automatically corrects and adjusts the distorted image to have perfect shape.
You should be able to purchase the PLED-W200 projector from the Viewsonic site for about $509.99.