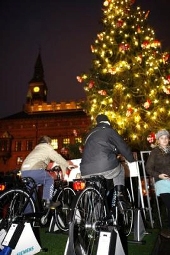 I love all the decorations that come at Christmas, and the ones with lights are my favorite. Of course, no one wants the extra fee on the energy bill during December, so these guys in Copenhagen came up with an alternative energy plan.
As you can see, there are several people on bikes that are powering these lights. There are fifteen bikes powering these 700 lights, and it looks like it is done on a volunteer basis.
So, I suppose that these people are dreaming of a "Green" Christmas.