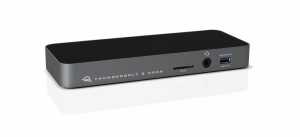 Once again, I am doing a review of a laptop/desktop accessory with the Thunderbolt 3 Dock from OWC. I am not certain what OWC stands for, but they seem to make a lot of really interesting products.
The Thunderbolt 3 Dock is enough to give your computer 13 ports, provided that it is plugged in with the Thunderbolt 3 cable. On the front is a USB 3.1 Generation 1 for delivering 5 GB data speed and power to the devices. There is also an expanded analog Audio In/Out to connect external speakers and mics. Oh, there is also an SD Card reader, which you can transfer a lot of files.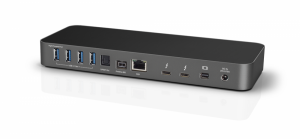 What is interesting is on the back are more ports. There are five USB 3.1 Gen 1 ports, which is once again good for pretty much whatever you need. Then there is this S/PDIF pro-grade digital audio output for an enhanced audio performance, not to mention a FireWire 800 port and a Gigabit Ethernet port. Then there are two Thunderbolt 3 Ports which are good to up to 40 GBs. Then there is also a mini DisplayPort.
All of this is good for up to 40 Gb/s for two ultra HD 4k displays, or a 5K monitor. Oh, and it is great for more than that too, because it is just that good at what it does.
So if you have a home office or business, then this OWC Thunderbolt 3 Dock is for you. It also comes with a 2-Year Limited Warranty. It can be purchased on sites like MacSales for $299.00.