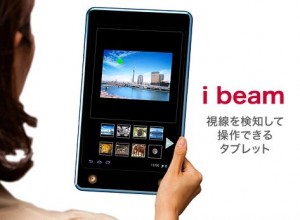 I think we all know that the tablet market is getting bigger with the iPad and the Amazon Kindle Fire.
Imagine a world where tablets use not only a touchscreen tablet, but eye-tracking. Yeah, just imagine opening an application just by looking at it. It has some embedded eye tracking from Tobii, and they are working with NTT DoCoMo to create this fun tablet.
The purpose is to create a tablet for the handicapped, but it is only a concept for now. However, I can see an entire fleet of eye-tracking gadgets. Now, is there a way to do eye-typing? I could get used to this.