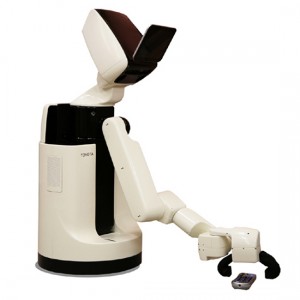 I think we all know that robots are going to help us do more work in the future, with the exception of Glenn, The Flying Robot.
Toyota is planning on creating a "partner robot", and it is designed to help those with limited mobility around the home. The tasks are limited to picking up items on the floor, opening curtains, and getting items from the top shelf. You know, basic things that the elderly need help with.
It was unveiled at Japan's Home Care and Rehabilitation Exhibition. I believe that the HSR is also planned on being some sort of bedside assistant for hospitals for non-elderly as well.
I suppose we will see what the future will bring. by the way, has anyone seen Robot and Frank yet?