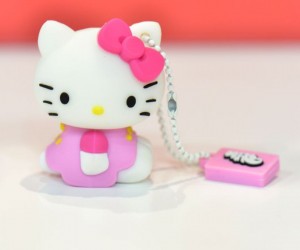 While I was at CES, I ran into a company known as Tribe which makes a lot of USB Flash drives which look like cute characters. Granted, the company of Mimoco does the same thing, and I know that there are a lot of similarities here.
Of course, I had to get the Hello Kitty one because my daughter, for some reason or another loves Hello Kitty. I think it is a rule that all little girls love it. Of course, if you like to see Hello Kitty dress up like members of the rock group Kiss, Tribe has that too.
They also have characters from Star Wars, and they are not capsule-shaped like the Mimico ones. These ones are shaped like the characters they represent, like the Simpsons and Smurf ones. Tribe also has other characters that are not based in any franchise that are just cute.
If you have a young person who needs a Flash Drive, you want to join the Tribe. Feel free to check out the website here.