We were pleased to get this new lightweight pump that is an Indiegogo project to review. The Tropo pump by FlexWeightGear will be a great accessory for those with an outdoor lifestyle.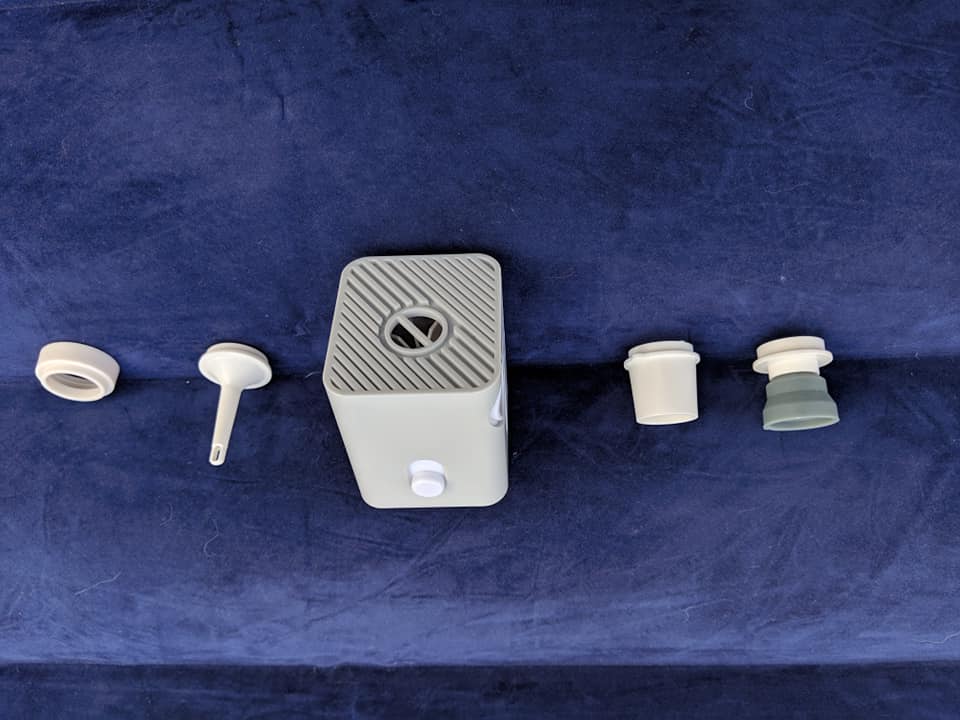 Tropo is an air pump that is both lightweight and affordable. It's also versatile with its multiple attachments to inflate items, fan flames, blow away small debris, or even suck air out of vacuum seal bags. The pump comes with 4 attachments. From left to right in the picture above, they are:
Vacuum nozzle- Goes on the top side that you see in the picture to vacuum seal bags
Sharp air nozzle-For inflating beach balls or beach toys
Large caliber air nozzle- For inflating large air mattresses or directing air to fan flames
Rubber air nozzle- Fits over valves on some outdoor air mattresses
The nozzles and the Tropo pump all fit in a small black drawstring bag. I didn't see the little bag in their Indiegogo pictures, but it came in the Tropo box I received. By the way, this box has all the tips and instructions written on it, so you might not want to recycle the box until you know the ins and outs of your device.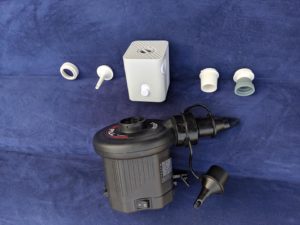 Did I mention the Tropo is lightweight? Without batteries, it weighs 100 grams. It only requires 4 AA batteries, which really is amazing. My regular battery operated pump is about twice the size and takes 6 C batteries! That's a lot of weight to lug around, and more expensive to power. The little Tropo pump is efficient, too, and can fill up an air mattress in the same amount of time as my bigger pump in the picture.
So, the Tropo pump is not yet on Amazon, as it's still on Indiegogo- probably for another month from the time of writing this. If you want to buy the Tropo, you can go to this site and choose your color of green, pink, gray or blue. You could also choose which early bird package you would like. Just for the single pump, it costs $19. The cost says it is marked down from $27. I would hope they keep the pump at the Indiegogo price. I think it's definitely worth the $20 price tag. The bigger pump I have is more affordable, but again, it uses more batteries that are harder to find, and the weight makes the Tropo worth it.
Thanks to FlexTailGear for providing this pump for us to try out. I hope they would consider sending us their air mattress(also available as an option on their Indiegogo page) to review. No other compensation has been given for our fair and unbiased analysis.