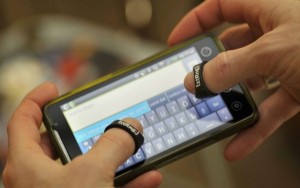 I realize that there is a whole generation who lives on texting, but that is because they grew up with it. This was the generation slightly before me, as I have had to get used to it.
I find that I send text messages only when absolutely necessary, such in cases where my wife goes shopping and needs me to send her a grocery list. If you have a smartphone like mine which is essentially one small touchscreen, it is tough for the two thumbs to hit precise keys for letters, numbers, and symbols.
Fortunately, there is the txtRng;). I realize that looks like some word that was misspelled while texting, but I will assure you that this is the product's actual name.
I had a chance to try out the "On-Hand" Stylus version, which includes two rubber rings with stylus-like appendages which are good for some precise texting. I will have to say that it made my texting experience easier, but I am not certain if people want to wear thumb covers for this. However, there is an interesting story behind the inventors story that is an interesting read, and I recommend checking it out here.
If the txtRng;) sounds like something up your alley, you can get it on the official site for an MSRP of $29.99 USD.