So, you probably have heard about a new iPhone coming out. People have waited in line for it to come out already a day in advance. We haven't been able to try out this new iPhone yet, but we DO have a case already for it. It's by Urban Armor Gear, and we know them to be a tried and true maker of protective cases for your devices.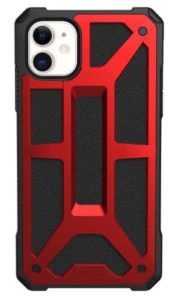 Yes, we've reviewed Monarch series cases in the past. This one doesn't seem to be much different- other than size, of course. There is top grain leather within the armor frame. The one pictured here is one of the choices of colors. I really like the way this one looks. It also comes in black and carbon fiber.
The five layer protection has been drop tested like the other UAG products at twice the Military Standard rating. So this case you know is well-built.
If you are getting an iPhone 11 in your hot little hand on the 20th of September(or later), I hope you have good protection for your investment, and I'm sure that we could easily recommend a product like this. You can buy it for $59.95 on the UAG site.
Disclaimer- although we received a free case to review, no other compensation has been given for our fair and unbiased analysis.