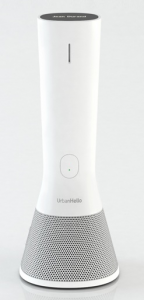 Most people have killed their landline phones, but UrbanHello showed off the newly designed home phone at CES Unveiled.
The UrbanHello is essentially a landline phone, but it can be used for telephony as well. I asked them, and it apparently isn't designed to link to a phone via Bluetooth, at least not yet.
You may notice that the UrbanHello has a stereo speaker on the bottom. This is to enable hands-free use. All a user has to do is put it down on a tabletop, and he or she can take their private conversation public. This alone was enough to capture my attention.
In case you are wondering, the buttons are on the bottom. I believe that the top has a screen for Caller ID.
Just to let you know, the UrbanHello is a Kickstarter project. I don't think that I have to explain that it requires your funds to get it going. For a donation of about $85, I believe you can get one when it hits the market.