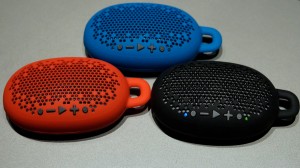 I have been reviewing a lot of Bluetooth Speakers these days with the one from Outdoor Technology and the Mighty Dwarf Blue II.
I think that there is an apparent demand for cheap, portable Bluetooth speakers, and I suppose that it is a product of mobile phones that don't have big enough stereo sound.
This company known as Boom Movement plans to make a an Urchin Ready 4 Anything (R4A) Bluetooth speaker. It has apparently designed for hanging off your pants with a belt loop, and you can even have a suction cup for your car or a screw-mount for the dash. Then there is a bike mount or strap attachment.
Yeah, that is pretty unique. Most Bluetooth Speakers just hang around on a tablet all day. This one is designed to go, and it has another unique feature, interchangeable silicone skins for different colors. It sounds pretty durable, doesn't it?
You should be able to get the BOOM Urchin R4A for about $149.99 sometime in February or early next year. The interchangeable silicone skins cost about $20.