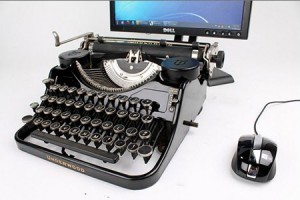 One of the things that keep me away from working on tablets is the lack of a keyboard. I can't do that whole touchscreen thing as it is too new-school for me.
If you want to go old-school with your desktop, you might want to look into the USB Typewriter. It is a fully functionally compatible with both PC and Mac computer. This is pretty cool as it has the "Underwood" label and everything.
Jack Zelkyn sells these guys from his Etsy shop fully assembled for about $699. You can also get a conversion kit for around $80.