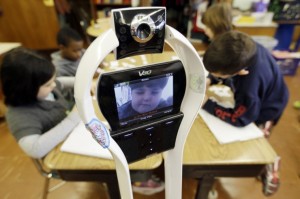 I think the future is going to give us an age of Telepresence, which is essentially being somewhere without actually being there. All this is possible with a robot taking your place of your actual body, and you communicate via computer.
Young Devon Carrow, a second grade boy in West Seneca, NY suffers from many allergies, so it keeps him indoors. He operates the VGo telepresence robot to attend classes, recess, and even events at the auditorium.
This VGo telepresence robot is 4-feet tall and weighs about 18 pounds. It has speakers so Devon can speak, and the teacher has a microphone so Devon can hear clearly. Students can also communicate clearly to the VGo and Devon will hear them.
What I find most interesting is that Devon's classmates accept the telepresence very well. I guess that shouldn't take me by surprise, as children seem to be adapting to technology much faster than adults. Seriously, think about it.
I can't help but wonder if we are going to be looking at a future where student-bots attend all the universities in place of actual students. That, or just have all universities be on-line.