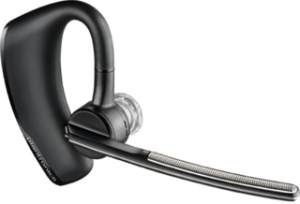 I always love testing out Plantronics products, and this time it was the Voyager Legend, wait for it, oh wait, there isn't a "dary" here. This is a reference to How I Met Your Mother, in case you didn't know.
Let's get back to the Voyager Legend. I'll start by saying that I like the one button that will tell you the battery life and connection status when you press it. Vocal controls are also important as you can pick up a phone call by saying "Answer".
Another cool feature is "Smart Call Routing", which can intuitively direct calls to a phone or headset, pause music for incoming calls, and allows the user to automatically answer by simply placing the headset on your ear. There is a demonstration of that on the Plantronics website link below if you want to hear more.
Another great feature is its moisture protection, which makes it "Sweat proof". This is thanks to a nano-coating, an invisible coating done in manufacturing.
Yes, Plantronics calls this the "first truly intelligent Bluetooth headset", but I have no idea where they came up with that standard. In case you are interested, here are the stats: 7 hours of talk time, 11 Days standby, and 33 feet in between phone and headset.
That is pretty good. I found the charging cord unusual. Instead of a micro-USB, there is a magnetic thing that can fall off. Keep your eye out for it.
You should be able to purchase it for about $99.99, and you can find out more about it here.