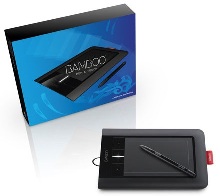 Wacom tablets are very good for when you want to pen your thoughts onto your computer, and their most recent offering is the Bamboo Pen and Touch, which accepts multitouch.
I get the feeling that Wacom looked at the iPhone and iPod Touch and said: "hey, let's give our customers some of that". The Pen and Touch is about the end result, and it has some very lovely pen and touch features.
You can read my review here to find out more about it.