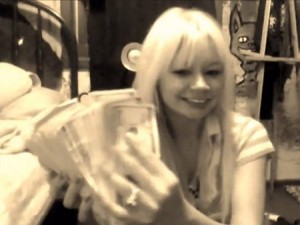 It is really interesting to see what kind of Information Age that we are living in.
The person that you see in the photo is Hannah Sabata, who lives in Stromsburg, Nebraska. She stole a Pontiac Grand Am and then robbed a bank in Waco. She used a gun, a pillow case, and a note, and then went right home and posted her crime on YouTube, flashing the cash proudly.
In case you are wondering how anyone could be capable of such stupidity, you can watch the video at my Source. I think there may be some drugs leading to this particular event. At least, the video.
I think there is another aspect to this. Do you know those people that post personal things on blogs and Facebook that are too secret? I have seen cases where people have read a blog, and then questioned the writer about the information. Then the writer seemed offended, as if the Internet was their personal diary and what they post is their secret for no one to read, while anyone who goes online can access it.
How did we get this way? Is it possible that people assume the Internet is really is a second world that consequences of our actions don't really matter? Yeah, I could get preachy on this, but I don't see why. In fact, I am not going to go on any further, but I will give you permission to share your story about online secrets on this site in the form of a comment.
In a related story, there is a new MySpace. Seriously, didn't Facebook completely eclipse this old social networking site.