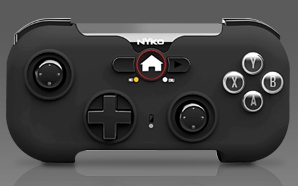 It is about time we have another giveaway for this year, so I figure that we are overdue. This time, we are giving away a PlayPad. If you aren't familiar with the PlayPad, it is a wireless gaming controller made for Android devices. You can read the review that I wrote on it here.
Here is how you enter. Just leave a comment, but here's the catch. On your comment, show a link to a place where you mentioned The Geek Church somewhere. This can be to a blog, Facebook page, I don't care. At the end of this post will be the comments section and you should see something like:
(Number) (Name) Says:
(Date) (Edit)
I love The Geek Church. I would totally go to it if it were an actual church. I mentioned it on my blog at (URL).
Your comment should look like that, but the parentheticals are filled in. Be sure to have a working URL with a mention of The Geek Church on it, or it won't count. Spammers, and I know you don't know who you are, you don't count either. When you do your comment, it will have a place for e-mail, which is how I will notify you if you win.
This contest ends on Monday, February 11th, at midnight, Pacific Standard Time. We'll be certain to sent it to you, free of charge. If you want it, comment right away.