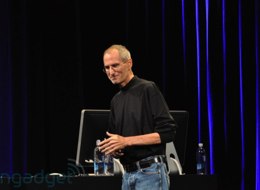 For more than a week now, Apple has been announcing a huge announcement that takes place on 09-09-09. Now that Sept. 9th has now faded into the 10th, let's see what has been happened.
Steve Jobs took to the stage and talked about the importance of organ transplants.
The iPod nano got an upgrade with a camera. It only takes video and not stills, and saves in 640 x 480 H.264 30 fps format. You can also apply 15 video effects such as Black and White, Film Grain, Thermal, X-ray. It also has an FM tuner which also features Live Pause, a way of stopping the music and then continue listening later. It also has a pedometer for Nike + integration, not to mention a larger screen of 2.2 inches. This Fifth Generation nano is available for $149 for the 8GB, and $179 for the 16GB version.
The iPod Classic will continue on, despite rumors that iPod was discontinuing it. Instead, it has beefed up the maximum amount of memory from 120GB to 160GB. The price for this new memory upgrade is $249.
As for the iPod touch, the 3rd Generation has just been given a new price point. The 8GB is for $199, and the 32GB will be for $299. The newly announced 64GB model will be $399.
Did I mention iTunes 9? About the only thing that I didn't hear about is the music at the Yerba Beuna Center of the Arts. I was still busy listening to Beatles Rock Band.